TrueLogic Company Director of Communications, Ellen Sellers has been named a 2019 40-Under-40 Honoree by Products Finishing Magazine. Each year Products Finishing recognizes the top young talent in the surface finishing industry. Recipients are chosen from a list of reader nominations based on potential leadership within their respective companies and their industry involvement.
The Class of 2019 for the Products Finishing 40-Under-40 leadership group has a vast array of experiences and training, but one thing appears to remains constant through all of those selected: the pursuit of excellence in surface finishing.
Regarding our own Ellen Sellers, "…joining TrueLogic in 2017. Transition to the metal finishing industry appeared to be quite daunting at first, but she quickly learned the industry is much more of a community than the world of finance."
Our sincerest congratulations to Ellen and all of this year's honorees!  Click below to learn more about the entire Class of 2019.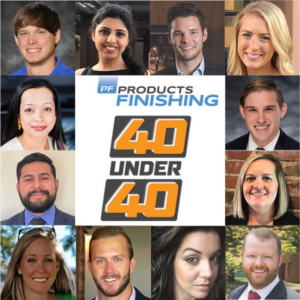 Products Finishing magazine is published monthly and copyright © 2019 by Gardner Business Media Inc. Electroplaters, anodizers, liquid and powder coaters have all come to rely on Products Finishing magazine as their No. 1 source for surface finishing news and technology for more than 80 years.